Why should you opt for 3D visualization?
3D visualizations have become an important part of the design process. This is due to their quality and specificity, which successfully allow them to replace classical photographs. What is more, they are sometimes even better than standard photographs, thanks to which they are more and more willingly used to present various kinds of products and real estates – even if they still exist. What should you know about them? And why should you decide to use them in your business? We answer.
Visualizations of apartments and rooms
3D visualizations are ideal for communication between the architect and the developer. They allow to avoid misunderstandings concerning the details of a particular investment. Three-dimensional models created in graphic programs are definitely a better solution than classic drawings, because they show a given object in a more realistic way – they allow to see the mass of a building and its interior, but also to notice various technical intricacies.
Creating visualization is a complicated process, but it makes you save both time and money. The developer can imagine the building faster and suggest possible improvements. Photorealistic visualizations, which are most often ordered by developers, deserve special attention. They faithfully recreate the interior, taking into account the light, shadows, time of day, style, and even climate of the place. It is worth to decide for them especially in case of complicated projects, using unconventional materials and details.
Interior and exterior visualizations are also useful when architects work with individual clients. Due to the fact that not all architects use 3D visualizations, putting them on the website helps to gain advantage over the competition and encourage more contractors and investors to cooperate. What's more, it also makes it easier for developers to attract customers, who – thanks to visualization – can more easily see the potential of a given property.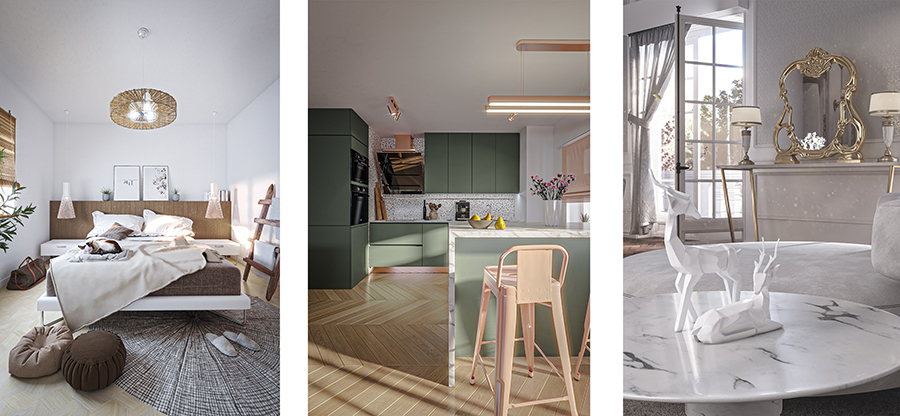 Interior visualizations can be found here.
Product visualizations
Many of our clients are also interested in product visualizations, which allow to generate an original model of a particular item. If skilfully prepared, it looks great and attracts the client's eye like a magnet. However, what is most important, in the end it often leads to the purchase of a given product, and sometimes even to the return of a client to a particular brand.
Product visualizations are perfect as an element of an offer. Thanks to them, clients can get to know the real length and width of particular products, but also the color in chosen lighting, as well as material structure. It is very important that in 3D visualizations, changes can be easily made, which is especially important when another product from the series appears in the offer, but for example with a different color or a different imprint. Then it is enough to change one detail, while the scenery of the visualization remains the same.
How are 3D visualizations better than photography? Well, first of all, they allow you to show an object when it is not yet ready for use or does not even exist. Visualizations are perfect for marketing activities, thanks to them you can create advertising campaigns without the physical presence of the object, for example on the basis of drawings, pdf files or photos of semi-finished products.
Product visualization is a great solution for manufacturers such as:
  

furniture and windows,

  

lighting,

  

bathroom fixtures,

  

wall materials,

  

jewelry,

  

cosmetics,

  

medicines,

  

cars,

  

electronic equipment.
Thanks to visualizations, it is not necessary to send products to a photographic studio equipped with appropriate decorations. You also do not have to wait long for the effects. Instead, visualizations can be done for you by a professional graphic studio Incensive Studio, which offers very attractive price in comparison to expensive photo sessions. What is more, it is distinguished by the speed of realization of the order, thanks to which you can be sure that you will not have to wait for months for its execution – with us it takes from a few days to a few weeks. Do you want to find out more? Contact with us!