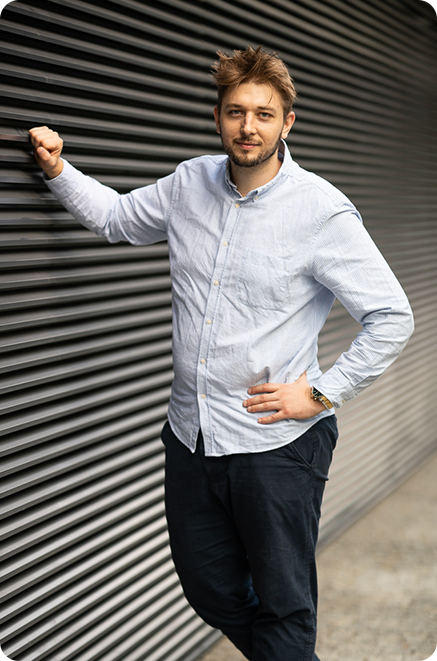 Andrzej – founder / Lead 3D – knew from an early age that he would have contact with design and new technologies. It's been almost 15 years since he first learned about 3D graphics and started trying his hand at it. In professional life, graphics and design are the first violin. He feels best when creating new concepts or improving existing ones. Privately, he is passionate about extreme sports and mountains.
Barbara – Landscape architekt / Graphic designer – drawing and painting is her way to relax, and she easily uses her passion for creation in her professional work. She loves meeting positive people especially while traveling. She spends weekends on boulder walls, solving "problems".
Kuba – Project Manager / Photographer – to say that he has a good eye is like saying nothing. In his veins flows the blood of a creative analyst who takes care of all organizational issues. He approaches both company topics and hobbies with precision and planning, thanks to which he combines a passion for photography with great results in areas such as cycling or climbing.
INCISIVE Studio is a group of specialists from various creative industries, from computer graphics to directing and production. We are oriented to our clients achieving their sales and advertising goals.
If you are a producer and want to take the presentation of your products to the next level, a developer and you want to appear among customers thanks to beautiful visualizations, or an entrepreneur from the creative industry and you make the highest quality advertising for your clients, our services are for you.
At the beginning, just a few words about where your business is at and what idea you have to improve its visibility in the media. In response, we'll ask a few questions, then go over the rest in detail and outline our plan!
Feel free to: